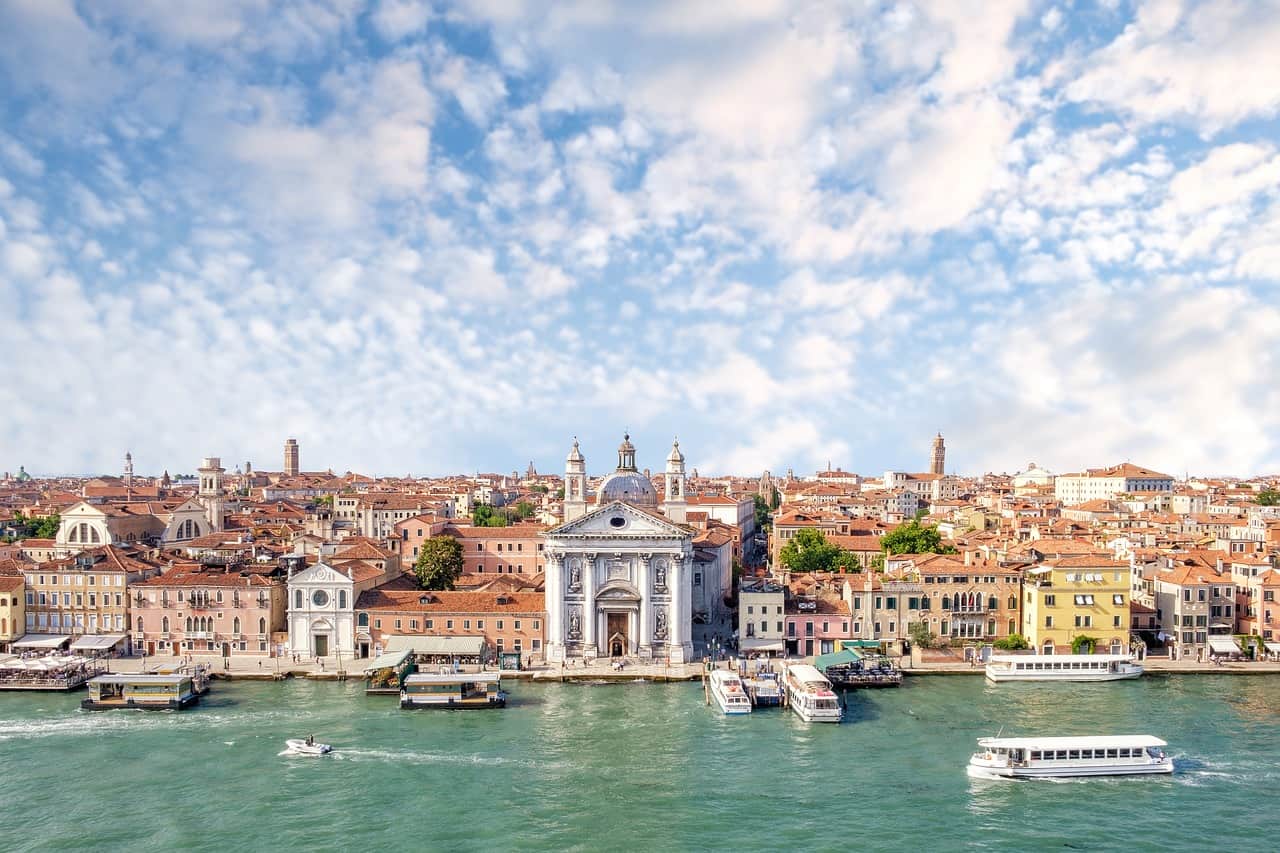 Enjoy Venice like a local
In this article you will find out:
1) Top Venice highlights
2) What to drink and eat and where in Venice
3) The best tips from Venice local
4) What to watch out for 
5) How to get to Venice
1)    Top Venice highlights
Our travel experts prepared for you an ultimate checklist of must-see sights & places that you can't miss while you're in Venice. Check them out down below!
St. Mark's Basilica – there is a mass every Sunday morning!
St Mark's Campanile – unquestionably the best viewpoint in Venice
Ponte di Rialto – famous remarkable bridge over Grand Canal
Doges Palace – gothic residence of the Doge of Venice
Bridge of Sighs – famous link between New Prison & Doge's Palace
The Venetian Arsenale – heart of the naval industry
Ca'Macana – traditional mask manufactory 
Ca Rezzonico – public museum dedicated to 18th-century Venice
Jewish Venetian Ghetto – isolated area for Jewish residents
Murano & Burano Island –  glass manufactory & colorful houses
Lido – island with a beautiful beach
2)    What to drink and eat and where in Venice
Here are the opportunities which will help you to taste the finest food and drinks which Venice has to offer 
Traditional Food Markets – in general, there are two great possibilities where you can buy fresh local delicatessen and even take them on the go

Mercato di Rialto – treat for all senses, a true Italian market

Vegetable Barge at Ponte dei Pugni – floating fruit & vegetable market
One, as well as the other, provides a cheap but good introduction to Venetian cuisine – if it's good weather you can sit down in a Royal Garden (Giardini Reali di Venezia) near San Marco's square and enjoy all the flavours with a lovely view on the see.
Ice Cream / Gelato – in a hot day nothing serves better than a scoop of honest-to-goodness Italian gelato, if you want to taste the best one in the town try this one:

SuSo Gelatoteca – besides common sorts like Chocolate, Vanilla, Strawberry Suso Gelatoteca prepared for you untraditional flavours such as Tiramisu, Lemon cookies, Mint and much more, a plus is that it's on the way from San Marco's square to the Ponte di Rialto which makes it an ideal stop 
Pizza, Pasta, Risotto, Seafood & Wine – if you are looking for a place where do the locals eat and which would offer huge variety of Venetian cuisine this spot is just perfect for you:

Rosticceria Gislon – tasty food & wine for affordable prices and friendly staff is a reason why to visit this restaurant again and again
3)    The best tips from Venetian local
Gondola Ride – No doubts that this is going to be one of the highlights of your vacation! It's the icing on the cake to end up your romantic evening with your dear half, but children will love it too. However, it can get quite pricy ( be prepared to pay 80-100€ for 40 minutes + fee if singing is desired). The docking stations can be found almost on every corner.
Pro-tip: Great alternative is to take vaporetto or traghetto (different types of water buses), which cost just few euros. These serve as public transport and you can travel with them to Murano, Burano & Lido Islands and get a nice view on Venice from different perspective.
Carry a refillable bottle of water – The water of the fountains in Venice is safe to drink and has an excellent quality. Almost every main square has a working fountain where you will be able to refill your bottle. If you want to drink a prosecco, however, there is no such fountain yet. In this case, a stop at a bacaro will fulfill your needs. 🙂
Get up early, stay up late – The best time to see the sights in Venice is before 7 am and after midnight. There are no crowds yet and the city feels peaceful and relaxed.
4)    What to watch out for
Although Venice is a magnificent city, one shouldn't mindlessly succumb to its beauty but still, keep in mind that you are in a tourist area. Find out how not to become prey for pickpockets and scammers. Stay safe with our list of what to avoid and what to watch out for.
– Put your hands in your pockets before someone else does! 
Any area that attracts crowds of tourists attracts

pickpockets

too. Keep your belongings close, hold onto your bags and check on your wallet and passport regularly when: at a touristy area, on public transport, at transport hubs (train stations etc.)
– Pro-tip: Keep your passport separate from your other ID or keep your passport in your hotel room safe.
– Choose TRUE local restaurants
If it has a man hailing people on the street and an outdoor menu with flags and translations, which might even be called a 'tourist menu', then it is a restaurant you might want to avoid. Try walking away from the city center – the food will be much cheaper and we believe that it's much better as well. 
– Pick only local souvenirs
Masks costing less than 20 euros can't be made in Venice. Chances are you're looking at made in

China masks, a threat to your health. Try visiting

Ca'Macana

, a traditional mask manufactory instead.
– Important phone numbers:
There is really just one phone number you should remember or write down in Europe:

112

. It is an emergency telephone number that works in nearly all member states of the EU, calling is free of charge and can be used to call the

police

, the

ambulance

or

fire, and rescue. 
5)    How to get to Venice
Europe-Journey offers you a transfer from your desired destination to and from a vast number of European cities. We make sure you get places fast and comfortably with a local licensed driver while You lay back and relax. You can custom your travel itinerary and decide for yourself what places to visit, what to see and what to experience.
Do you need to get to Venice from any city in Europe? Would you like to experience private transfers with the best sightseeing stops along the way? Are you planning to make Milan your next stop? We can arrange it for you! Just go to our easy search bar and find your desired transfer! You can also check our offer of all transfers.
If you can't find your desired route within our offer, just contact us via email info@europe-journey.com and we will do our best to meet your request.